Raven Chronicles - Volume Three: Flesh and Ghosts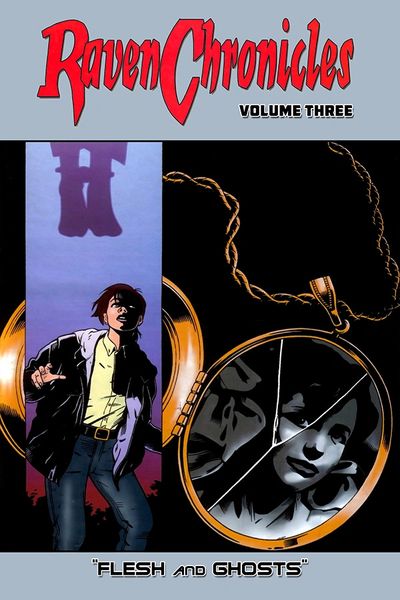 Raven Chronicles - Volume Three: Flesh and Ghosts
Raven Chronicles is about a unique investigative team that explores the paranormal. Led by the mysterious Edgar Allan Raven, the team searches for answers to questions that most won't even ask. From UFO's, to vampires, to mysterious computer viruses, to spontaneous human combustion, no subject is taboo, no mystery is unsolvable. Although the series has been compared as a cross between Mission Impossible and X-Files, it does not have the complete obsession with governmental conspiracy that occurred in X-Files.
Formed of both skeptics and believers alike, the team is often called in by local authorities or government agencies when cases prove to be too bizarre, too unusual, or just plain unsolvable. Covering the entire spectrum of the unknown, from the supernatural to the dark side of man, Raven, Inc., searches for answers in areas that most people refuse to acknowledge exist.
Collects issues 9-12: "Wolf Country", "The Ghost of Alonzo Mann", "Deadlands", " The Compensators"
Written by: Jim Alexander, Gary Reed, Martin Conaghan
Illustrated by: Christopher Jones, Galen Showman, Paul Kowalski, Avido Khahaifa, Will Pickering
Pages: 124
Softcover
Black and White