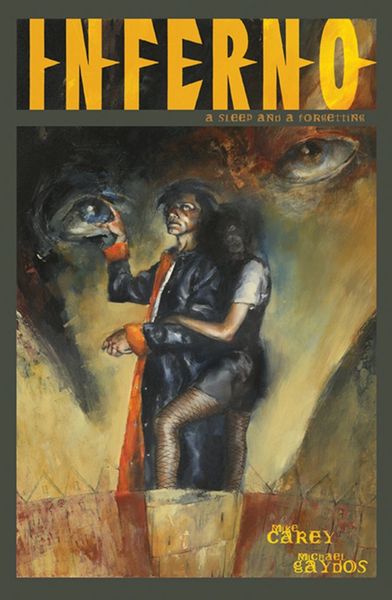 Inferno
LIMITED QUANTITY REMAINING. From Mike Carey, writer of the DC Comic 'Lucifer' which is currently seen as the television series at FOX. And writer on such comics as Fantastic Four, X-Men, Batman, and Thor. And art from Michael Gaydos, co-creator of Jessica Jones (Marvel - Netflix).

A mysterious man in a mysterious city...A city infested with corruption...fueled by sin...and justice is independent of the laws. 
At the heart of the netherworld is the city called Inferno...a sprawling, endless mass made up of fragments of every earthly city that ever existed. Its inhabitants are the damned, the desperate...those whom redemption cannot touch. 
When John Travis is murdered, it is to Inferno that his spirit comes. But it's all a mistake...Travis' killers were looking for someone else. Now Travis finds himself both pawn and prize in a game he doesn't understand and the stakes include both his immortal soul and his memory of a past life. Travis has his allies, of course, including the prophet Nostradamus and the woman Shule Borraial. Together they're prepared to risk their own souls to get Travis back into the city in one piece. 
But why do they claim to have met Travis before? And why did they have him killed? 
Inferno is more than the saga of a loner trying to make sense of a strange and terrifying world in which he is thrown into. It is the story of the city itself which seems to permeate its own evil life through the streets and all of its inhabitants. Can one man make a difference?
"A work of genius on the dark fantasy genre." - Comics International 
"It's in these self-contained stories that we see just how talented Carey is. His imagination and appreciation of the human heart make for storytelling that is both entertaining and thought-provoking." - Fandom.com
Written by: Mike Carey
Art by: Michael Gaydos
Pages: 146
Print: Black and White
Softcover