FISK The S.U.B.S.T.I.T.U.T.E.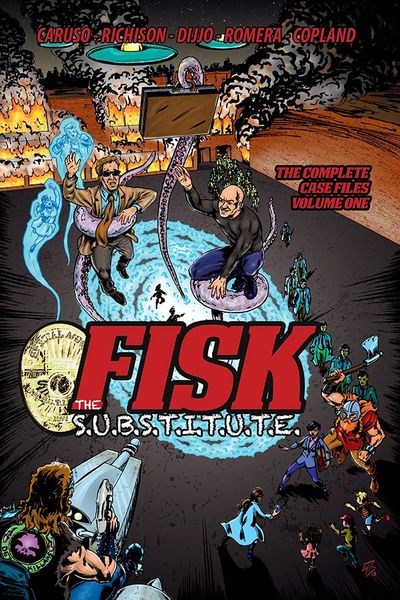 FISK The S.U.B.S.T.I.T.U.T.E.
Mr. Fisk is the best at what he does, but nobody knows it. He's a covert agent in the S.U.B.S.T.I.T.U.T.E. department of the Board of Education. He's called in to deal with mad scientists, temporal rifts, aliens and any other supernatural occurrences that might threaten a school - all without public knowledge, to prevent widespread panic. Mr. Fisk thought he'd seen it all, until now. Suddenly, he finds himself (armed only with his briefcase and a new protege by his side) facing the greatest challenge of his career. After all, weird has no lesson plan! Collects issues 0-3.
"In all honesty this book was a lot of fun. It does what any good intro issue should do, by introducing the reader to the cast and giving them a little back story. The action in this book was probably the highlight though. I think that what I was able to walk away with was some mystery and definitely some intrigue." - Horrornews.net
Written by: Dino Caruso
Illustrated by: Shawn Richison, Dijjo, Juan Romera, Jason Copland
Color
126 Pages
Softcover