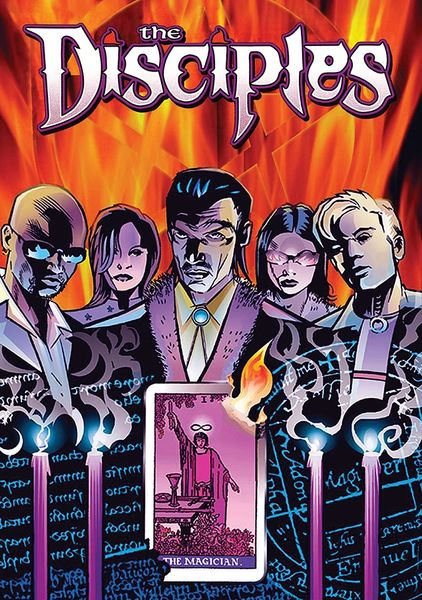 Disciples
So, you think you know the truth about magic? Wicca, Voodoo, Chaos, Tarot…call it what you will…but it is much different than believed. This isn't the old school of speaking in rhymes and staged theatrics, there are fundamental elements at work that are so powerful, so dangerous and cosmic, they threaten to tear the very fabric of reality asunder.

But who guards us against this impending onslaught?


The Disciples, a misfit group of old school and new school seers, magicians, and wielders of the Black Arts whose own internal politics pose as great a threat to their survival as any outside influence. In this introductory story, a young girl who discovers her incredible powers is brought in to join the mysterious members of The Disciples who have gathered to take solace in the death of one of their own. And they must comes to terms quickly for a group within The Knights Templer have sinister plans to awaken an evil god in this world and only The Disciples it seems can stop them.
"A contemporary story of warring magical societies, the comic is thoroughly researched, skilfully told and expertly drawn. Reminiscent of early Vertigo (but without the angst), THE DISCIPLES is a prime example of intelligent, dynamic comics." - Ninth Art
"…hook you into the story with rhythmic, contemporary dialogue and intelligence that exudes from every pore." - Ray Tate, Line of Fire Reviews
"The combination of art and colour-work in the title marks The Disciples as different in a market where certain styles proliferate, or where the mainstream streamlines, this art is distinct." - Remote Induction

"Smart, sharp, and dynamic. The Disciples is one of the most impressive debuts I've seen in a long time." - Katherine Keller, Sequential Tart

"I'm really impressed with the total package of The Disciples. This is really a promising debut..." - Greg McElhatton, iComics.
​

"What is required of me as a reader is to keep up with this exciting and powerful series! WOW!" - Paul Dale Roberts, Jazma Online