Baker Street: Honour Among Punks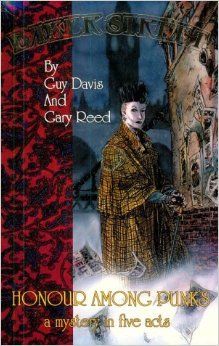 Baker Street: Honour Among Punks
Limited Quantity with a few remaining copies available. Harvey Award nominee. Baker Street, the center of England's punk movement in a London few would ever know, a life even less would ever see. Where being different is the rule, "ratting" the gambling vice of a city's underground, and death is often just around the next corner. Here is where mystery, intrigue, and suspense are more than a game to the residents of post Victorian London, it's a way of life.
Baker Street, the name itself conjures up many images of Victorian London and the home of one Sherlock Holmes. But you won't find Sir Arthur Conan Doyle's sleuth here, just some similarities yet a little bit more. A Sherlockian adventure set in an alternate but present day London universe. An England where World War II never happened and the Victorian era is resurrected with present day values and even flying dirigibles. All of which is only the backdrop to the mysteries and setting of the social clashes within London's punk subculture.
Baker Street, a violent intrusion into a world that doesn't exist but possibly could have. It is a story of rebellion yet also one of belonging. It dives deep into a world on the fringe and exposes it's underbelly and treats the normal world as the outside. It is Baker Street and no, you won't find Holmes or Watson here but you will find Harlequin, Sam, Susan, Toby, Toller, The Ripper, and far too many other fascinating characters to list.
Writer: Gary Reed, Guy Davis
Artist: Guy Davis
Softcover
160 Pages